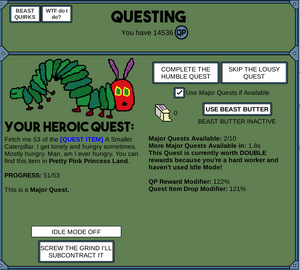 Questing is unlocked by using the Heroic Sigil which drops from THE BEAST.
Every 7 hours and 50 minutes you will earn a major quest, up to a maximum of 10.
When you start a quest, you can choose between a minor quest or a major quest if one is available. The objective is the same, but the minor quest only gives 20% reward. You can skip your current quest at any time.
To complete a quest you must collect a certain number (between 50-59) of a specific quest item, which drop from a specific adventure zone. Alternatively you can activate idle mode (not the same as the Idle Mode adventure skill), which slowly gives you progress without having to collect the item yourself. An active quest will continue across rebirths.
The base reward for completing a quest is 50 Quirk Points and 50 Arbitrary Points. Completing a quest without using idle mode doubles the reward.
Quest items
[
]
Quest items only drop when you are on a quest and are adventuring in the zone where your current quest item is found. You will only be assigned quests for a given zone once you have completed the gear set for that zone (maxxed all items in the set).
The base drop chance for quest items is 5% from all enemies. It is increased by the Quest Drops special rather than regular Drop Chance specials, as well as through the Evil Difficulty perk "Improved Quest Looting".
You turn in quest items by right-clicking them, which will turn in all items that match your current quest, upping your quest progress counter. If you have more than you need to complete the quest, or items that don't match your current quest, the extra items will remain in inventory, and can be saved for a future quest that requires that item.
Quest items can also be turned in one at a time by Ctrl-left-clicking on them. If they do not match your current quest, the Beast will "eat them anyway" but your progress counter will not go up.
Quest items drop at level 0 and can be combined to increase their level. For each unique quest item type you level to 100, you get a permanent "completion bonus" multiplier of +2% QP.
Higher level items don't give additional progress unless you purchase the effects that give "Bonus Quest Handin Progress". This effect and it's upgrades can be acquired from Perks (3), Quirks (2), and Wishes (4). If at least one of these is purchased, you will get extra quest progress for the level of the quest item handed in. The total hand-in value of any quest item is calculated as:
rounded down, and will always be at least 1.
As the divisor is reduced with upgrades, the handin value of a quest item goes from 10% of the item level up to a maximum of 50%. This means that with all upgrades, a single lvl 100 item will complete a minimum item quest (50) on it's own.
Quest items take 48 hours to level up in daycare.
There is no penalty for skipping a minor quest aside from losing any handin progress you may have already made. Thus you can cancel minor quests repeatedly until you get the quest zone you want, or to get a quest with a low number of required items. If you skip a major quest, you lose the opportunity to earn the higher QP associated with it.
List of Quest Items
[
]
Time to complete quest
[
]
Expected time to complete quest depends on players quest item drop modifier, respawn rate in seconds, idle attack speed (0.8 with maxxed Mysterious Red Liquid, 1 otherwise), number of quest items required and follows formula:
seconds = minutes
Since it's based on random drops it might take a little shorter or longer.
Idle questing
[
]
The time to complete a quest by idling is similar, but uses idle quest divider (8 by default, can be reduced to 3 by upgrades):
minutes
When idle questing, you will gain quest progress without having to be in any specific Adventure zone (you can even be in the ITOPOD).
If you get the "Truly Idle Questing" perk, when you are in idle mode quests will be handed in and new ones started automatically, with no interaction necessary. Quest assignments and progress are retained across rebirths. Items that improve quest drop percentages will improve your idle questing speed by the same amount. Items, quirks, NGUs, etc. that improve respawn rate also improve your idle questing speed.
Questing upgrades
[
]
There are several upgrades that improve different aspects of questing:
| Name | Effect | Price (AP) |
| --- | --- | --- |
| Faster Questing! | Gain Major Quests 20% faster | 250,000 |
| Extended Quest Bank | Upgrade your maximum banked Major Quests from 10 to 50 | 125,000 |
| Quest Reminder! | This will make the Questing Menu button light up when you have a Quest ready to hand in | 50,000 |
| 'Go To Quest Zone' Button | Unlocks a 'Go To Quest Zone' button which will send you to whatever Adventure Zone your Quest is on. | 100,000 |
| Name | Effect | Price (PP) | Levels | Difficulty |
| --- | --- | --- | --- | --- |
| Not So Minor Anymore | The base Minor Quest reward modifier is increased by 2 (Normally 10) | 30,000 | 1 | Evil |
| Better QP Rewards! | Improve QP reward by 0.2% per level | 400 | 50 | Evil |
| Improved Quest Looting | Improve the drop chance for Quest items by 0.5% per level | 200 | 30 | Evil |
| Advanced Gooder Idle Questing | Reduce the speed divider placed on idle Questing by 1! Normally, this divider is 8 | 25,000 | 1 | Evil |
| Even More Advanced Gooder Idle Questing | Reduce the speed divider placed on idle Questing by another 1! Normally, this divider is 8 | 250,000 | 1 | Evil |
| Truly Idle Questing | Idle quests will be automatically handed in, and a new quest started | 200 | 1 | Normal |
| Gooder Idle Questing | Reduce the speed divider placed on idle Questing by another 2! Normally, this divider is 8 | 100 | 1 | Normal |
| Another Gooder Idle Questing | Reduce the speed divider placed on idle Questing by another 1! Normally, this divider is 8 | 5000 | 1 | Evil |
| The Fibonacci Perk - level 233 | QP reward * 110% (Completion Bonus) | 116,500 | 1 | Normal |
| The Fibonacci Perk - level 610 | All quests are for 50 items, no more RNG of 50-59 items | 305,000 | 1 | Normal |
| Bonus Quest Handin Progress I | You can now hand in higher level Quest Items for added progress. The formula is 1 + (level/10) progress, rounded down. | 1,500 | 1 | Evil |
| Bonus Quest Handin Progress II | Reduce the level ratio for higher level Quest handins by 1 per level of this Perk! Originally the formula is 1 + (level/10), rounded down. | 50,000 | 2 | Evil |
| Improved Minor Quest QP Rewards | +1 Minor Quest base QP reward per level | 5E+6 | 2 | Sadistic |
| Improved Major Quest QP Rewards | +1 Major Quest base QP reward per level | 1E+6 | 10 | Sadistic |
| Name | Effect | Price (QP) | Levels |
| --- | --- | --- | --- |
| Bonus Quest Handin Progress I | Reduce the level ratio for higher level Quest handins by 1 per level of this Quirk! Originally the formula is 1 + (level/10), rounded down. | 4,000 | 2 |
| Name | Effect | Levels |
| --- | --- | --- |
| I wish Active Quests were more Rewarding I | 2% better active questing rewards per level. | 10 |
| I wish Quests gave more QP | Improves Quest QP rewards by 2% per level. | 10 |
| I wish Active Quests were more Rewarding II | 1% better active questing rewards per level. | 10 |
| I wish high level quest drops counted for even more Quest progress I | Alright - This wish will reduce the level divider for higher level Quest handins by 1 for each level of this perk! Originally the formula is 1 + (level/10), rounded down. | 2 |
| I wish high level quest drops counted for even more Quest progress II | This wish will additionally reduce the level divider for higher level Quest handins by 1 for each level of this perk! Originally the formula is 1 + (level/10), rounded down. | 2 |
| I wish Major Quests had better Base QP Rewards | +1 Major Quest base QP reward per level | 10 |
| I wish Minor Quests had better Base QP Rewards | +1 Minor Quest base QP reward per level | 2 |